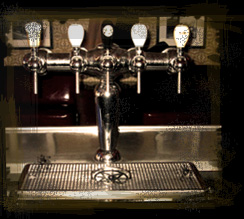 BEER LINE CLEANING AND MAINTENANCE
Beer line cleaning is an essential part of beer system maintenance.  Beer lines and faucets are cleaned of normal residue build-up.  We use both alkaline and acid cleaners specially formulated for draught beer lines.  During beer line cleaning, we also check the integrity of your system, replace washers, make necessary adjustments and brush out your glycol chiller.
REPAIRS
Most problems are diagnosed and repaired same day or within 24 hours.  Most common repairs are broken faucets, beer and gas leaks, foamy beer, no beer pouring, glycol replacement, glycol recirculation pump and motor replacement, broken FOBs.
Pipe Dreams NYC provides Beer Line Cleaning, Maintenance and Repairs for new and existing beer systems throughout New York City.